Channeling your brand effectively to your target market is what we do best.
Crafting the right message to reach your audience is not an easy feat. Various nuances and cultural differences play a big factor in creating an effective strategy to reach consumers.As a company that believes in quality and delivering results,  we will examine your: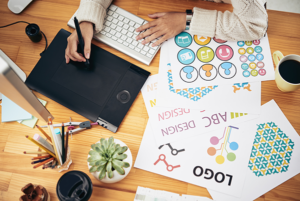 business goals,
communicative style of choice,
and target market
before we determine the best approach that will drive response,  help you reduce costs, and implement more efficient processes.At Yamagata Thailand, we are not only committed with branding but we also go above and beyond to provide you added value.
Our talented team is made up of diverse, energetic and passionate individuals that focus on creative solutions that can effectively tell a story across multiple channels of communication.Whether you're looking for design, video, print, photo, or digital services, we can assure that your words will be conveyed effectively to increase impact. As each client is unique to us, we approach all of our engagements differently.
Our Capabilities includes but are not limited to:
Desktop Publishing
Video Presentation / Subtitling
Technical Illustration
Web Design
Photoshoots
Event Planning
Grow your business internationally with a strong design and fresh look.
Let our team of designers and translators work in unison to deliver your tailored message in the correct translation.
Desktop Publishing
Yamagata's team of specialists can provide quick turnaround times and high-quality documentation in any language or format. Whether you would like to improve your current file or start from the beginning, let us assist you in your DTP needs.  Give us your designs in one language and we can ensure that the final result is well- represented, accurately localized, and consistent with your corporate brand.
Our services for DTP include:
Layout & Design
Photo: Photoshoots, Photo Restoration, editing & touch up
Multilingual layouts
What we offer:
Brochure / Catalogue / Poster / Leaflet / Company Profile / Label / Calendar / Sticker / Packaging etc.
Video Presentation
We have capabilities to create visually exciting and professional videos. Whether it's a company training video or a sales/marketing presentation, leave it to our team to provide you with high-quality content.
Video Subtitling service
We offer cost effective and flexible video subtitling services so that you can choose a solution that most closely matches your requirements and budget.
Technical Illustration
An effective technical illustration job requires the clarity of illustrative directions when words aren't enough. When done correctly, it ensures the safety of the consumer and can reduce a company's overhead costs.  Work together with our technical illustration team today for your next project.
Web Design
We create user interfaces and visuals for web tools. Our design process addresses all aspects of planning, development, and implementation; guaranteeing that the end product is intuitive for the consumer.
Photoshoots
We offer product photography for both indoor and outdoor sessions.  With our experience working with many of Asia's leading companies, we guarantee our professional team will deliver results based on your expectations.
Contact us today to learn more.